CUSTOM PIPES INC (located in Houston, TX). Reginald loves the thrill of two wheels and is the master-mind behind manufacturing new innovating ideas for motor cycle exhaust systems. After purchasing a Harley-Davison softail bike, Reginald believed the sound was not loud enough. He started purchasing exhaust systems from other manufacturing companies and removed the baffles, but he still did not get the sound he was looking for. The only solution was to custom build a system that would not only perform but also produce the sound Reginald wanted. Immediately, words spread through the streets of Houston about Reginald fabricating exhaust systems. Soon after, a customer approached Reginald with an idea of custom chollo fishtail but without the baffles. The end result produced the manufacture system second to none in the industry while presenting the best performance and sound.
Check out the latest article in Lowrider Magazine on our Fishtails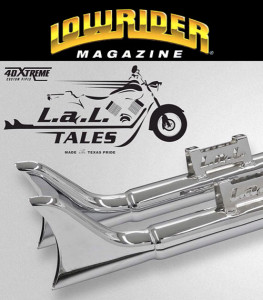 4DXTREME CUSTOM PIPES Inc products are 100% made in the USA. Its goal is to keep manufacturing innovating products with the customer in mind.
Thank you for your support,
4DXTREME CUSTOM PIPES
Reginald Carter, Founder