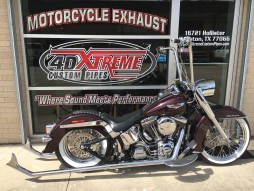 Fitting Features: Years '89 - '06  &  Years '07 - '16
1 ¾ in. tubing
Head pipes that step into a 1-7/8" muffler
Chrome heat shields cover headers
Fishtail mufflers no baffle
Made in the U.S.A.
Please note on older models that did not come stock with true duals, you will have to tap holes to mount the left side of the exhaust.

Updating...